Mr. Prithvi Pal Singh
Director of AHA
---
Mr. Prithvi Pal Singh Director of Airline and Hotel Management Academy (AHA) a young dynamic personality completed his graduation in Hotel Management from IHM (Udaipur). He had specialized in Room Division and was a
bright scholar.
Mrs. Nitu Shrimali
Director, Aviation
---
Mrs.NituShrimali has an impeccable experience of 15 years in Aviation Industry. She has been a part of India's most popular and 5 star airline for more than 8 years. She has worked with various Aviation academies as the Head of Training as well as Placement.
---
Ms. Neha Shaktawat
Academic Incharge
---
Ms. Neha has a Master's in Technology (VLSI). Working in Academics for past 4 years. Having rich experience in Corporate & Classroom training both. Conducting Corporate Communication Skill workshops for more than 2 years. Working as the Academic In –Charge and Soft Skill and Personality Coach with AHA- Udaipur.
Chef Mahendra Soni
Trainer Food Production
(Training & Placement Co-ordinator)
---
Lecturer and course co ordinator at Airline & Hotel Management Academy (AHA) Udaipur. Has immensed knowledge having 24 years of rich experience in the field of Hospitality and Education as well as worked with reputed hotels in India as well as in UK & USA with Cruise liners , specialized in Bakery & Confectionary (Pastries) and Hot Kitchen too.
---
Mr. Geetigya Suthar
Trainer Housekeeping Department
---
Holding Masters in M.Sc in Hotel Management Catering & Tourism .Having rich experience in overall Housekeeping Operations. Worked with leading chains of hotels for 07 years such as Oberoi Hotels & Resorts , Worked as lecturer with Pacific Institute of Hotel Management 02 years for taking theoretical & practical classes of Accomodation Operations classes for Diploma B.Schm And MTHM.
Ms. Karishma Sisodiya
Trainer Front Office Management
---
Ms. Karishma Sisodiya is the overall in charge for front office Theory & Practical session for Diploma & Bachelor's in Hotel Management Course. She is having more than 6 years of Rich experience in India & Abroad with reputed brands of hotels like Sheraton, The Lalit Radisson Blu,
Le Meridian- Dubai.
---
Mr. Devkinandan Varma
Trainer Food & Beverage Service
---
Mr. Devkinandan Varma is a faculty of the Food & Beverage Department with his qualifications from Mumbai university and specialization in the Bar section. He has won certain domestic cocktail competitions and appearances at the magazine of Fernet Branca 2016 cocktail edition with The recipe & photoshoot. He has worked in both international & domestic hotels specialized in these fields for 10 years & worked qualifies his MBA in BSC HS in the country of Switzerland.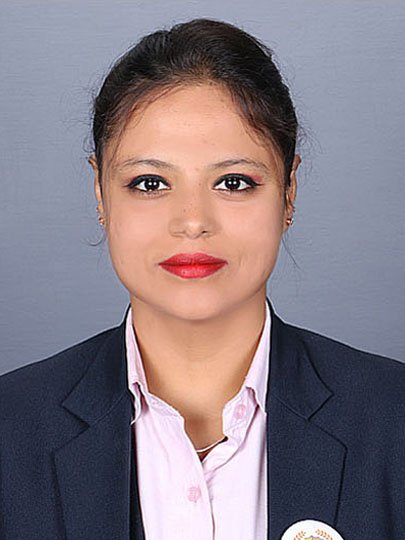 Ms. Kinjal Chhabra
HR & Admin Head
---
Ms. Kinjal Chhabra completed her bachelor's Degree in commerce (B. Com) and having 4 years of experience as an HR & ADMIN Department at Airline & Hotel Management Academy (AHA), Udaipur.
---
Mayur Singh Ranawat
Marketing Manager
---
Mr. Mayur Singh Ranawat is Hospitality graduate and having 10 years of Rich Experience with Branded chain of hotel in India, his expertise is in all sections of Housekeeping Department. Presently Mr. Mayur is Marketing Manager at Airline & Hotel Management Academy (AHA), Udaipur.
Mrs. Nisha Tank
Aviation Admin
---
B.com graduate , Diploma in Aviation ,Hospitality & Management from AHA (Jaipur), Diploma in Computerized Industries Accounting. Worked as Guest Service Associate for reputed hotels in Udaipur as Hotel Sherton, Hotel Chunda Palace for 05 years. Now in Admin department in Airline and Hotel Management (AHA) Udaipur.
---
Chef S Subhash
Trainer Food production
---
Rich experience of 6 years , Started as an Ocer with Oberoi Group of Hotels in Cochin Worked with IHM (Balicha) as Food Instructor, Worked with FabCafe in Chennai as CDP, Worked with Vanyavilas as Chef specialised in Indian Cuisine.
---